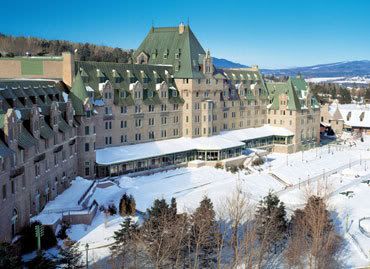 Tradeshow season is in full bloom and I'm on the second of a string of shows I'll be attending over the next few months. This time I'm in lovely Charlevoix, Quebec (or Malbaie, depending on who you talk to). This is the last of the "exotic" locations I get to go to, as I think the next show is in Oshawa, the armpit of Ontario. Now that my old boss/drinking buddy is gone, I'm third fiddle for tradeshow picks, so I have to make the most of the ones I get. And with a new addition in our department (my nemesis – we even share the same name), I have to work extra hard to jockey for position and stay in the good graces of the Tradeshow Scheduler.
I must say that I really scored this time: I'm staying at the decadent
Fairmont Manoir Richelieu
, which is nestled into the bay of the St. Laurence? Atlantic? I don't know – my Grade 5 geography teachings are failing me at the moment. Anyways, it's absolutely gorgeous here. I'd add a photo if I hadn't left my camera at home, but after the last ordeal, I was wary about bringing my brand spanking new
camera
along with me- checked or on my person (I'm still fairly skeptical about those security x-ray machines). I did take a couple of shots with my phone, so if I figure out how to upload them to my PC, I'll post them. For now, here's a generic shot I googled (see above because I can't get the freaking formatting to do as it's told). A worthy post is never without one, you know.
I flew into Quebec City on a
Dash-8
. For anyone who hasn't had the "pleasure": it's usually the smallest commercial aircraft in an airline's fleet and is predominantly used for short haul, light load flights. Boarding a Dash-8 is very retro, or "Ghetto Glam", as I prefer to call it. Because the plane is short by comparison to others, there aren't any walkways designed to fit up to the door, so passengers have to board by walking outside and climbing a rickety set of stairs. I wish I could say it's as glamourous as
this
, but it's really not. Some paparazzi might help.
I would say the Dash-8 is the commercial aviation industry's version of the clown car. For a passenger to fly comfortably on a Dash-8, he or she should measure no more than 4 feet in height and should ideally have neither legs nor luggage, as there's no room for either. If you are not fortunate enough in any of these respects, I would highly recommend seats 1E and 1F, as they are the only two on the plane with enough room that you don't have to curl up into the fetal position to fit into them. Conversely, I was seated in row 1A/C: the bank of seats with the least amount of space in the joint. So, while I sat in
Locust pose
, the flight attendant basked in the chaise lounge across from me, reading a book. (A former flight attendant myself, I could've gotten her ass fired for such a blatant breach of flight safety regulations, but that's another rant all together and, frankly, this post is long enough.)
Another highlight of the Dash-8 is that it's a propeller plane. Being the lucky soul that I am, my seat was conveniently located parallel to the left propeller and given that this particular aircraft has the insulation of a tin can, I might as well have been sitting IN the propeller's turbine. That flight attendant would've done better to pass out construction-grade protective headphones than Bits n' Bites. I'm sure that trip alone will be responsible for my having to get a
Whisper 2000
in order to hear worth a damn come my 40's.
Once I got to Quebec City, I had to rent a car for the two hour trip to the resort. I reserved a compact car, expecting some sort of generic sedan, but I what I got was a sexy black Ford Focus station wagon. Oh well, at least I got some valuable soccer mom practice time in. The weather was great for a drive and the scenery was nothing short of spectacular. I ended up missing my exit and drove another 30 kms before I realised my error, but I was enjoying the drive so much that I didn't mind.
In true Fairmont form, the Manoir Richelieu is decadent in every way, including the prices! I do get a per diem while I'm away, but it's a drop in the bucket at a place like this. I ended up going to McD's for lunch on the first day, just to save some cash. You see, if you're smart, you can actually MAKE money on business trips, or at least save up the $$ alotted for breakfast and lunch and then go buck wild at dinner. For me, I'm happy as long as I don't come out at a loss.

The convention itself has been a bust, but I've managed to enjoy my stay in other ways. Last night I ordered room service, surfed the web and watched TV all in my hotel bathrobe. Of course, my trip wouldn't be complete without a couple of mishaps: the exhibit frame arriving in several pieces (thank God for duct tape!) and the bathtub water tap falling off the wall and injuring my foot (that f*cker was heavy!).
Tonight, I plan to fully enjoy the convention's dinner and show, but I'm going to skip out on the "After Party" (tee hee) for a dip in the outdoor saltwater hot tub and some time in the sauna. Tomorrow, I've got an early morning packing up the exhibit and hightailing it back to Quebec City to catch my flight home. Then, I get to pick up *T* and spend my weekend doing some long-overdue best friend bonding!